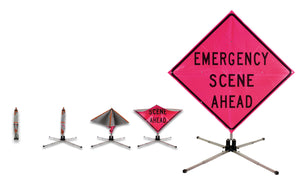 MDI Compact® Sign is permanently mounted to a foldable crossbrace, which allows the sign to fold down and be stored as one unit with the sign stand. The crossbracing is equipped with a Single Trigger Release Mechanism for easy deployment and take down with just the push of a button. The material is Reflexite® Super Bright and is highly visible in daylight and headlights. The MDI Compact® Sign is used with TrafficMaster® Sign Stand Model 3612DLK. The sign can be stored right in the stand, ready for immediate use.
Sign Material Description:
ORALITE® Super Bright Roll-Up Signs are made of polymeric microprism sheeting sealed to a fiber reinforced backing material and meet the requirements of the Manual on Uniform Traffic Control Devices (MUTCD). The retroreflective signs are visible at long distances both day and night and have color stabilizers to guard against fading.
Sign and stand sold separately.